Greetings

Band

Parents and

Mac

Band

Supporters,
Wow! This month has flown by! Championships are this weekend, and it feels like we just had Band camp. Mac Band keeps showing up and improving every time they step on the field. Thank you so much for the volunteers that have been showing up for the band. We could not have supported the Band without each and every one of you.
Please note that we are trying to put together a parent show after competitions are over. Please keep an eye out for more information.
Tigard Autumn Spectacular @ Tigard HS, Tigard OR A/ AA Class Championships
Championships will be this coming Saturday, October 30th, at Tigard High School. A volunteer sign up has been created for those who are able to help out. Volunteer opportunities include: Canopy/tent set up, helping the front ensemble get equipment on and off the field, putting plumes on shakos, loading the trailer, and helping serve dinner.
Football Game on 10/29
Mac Band will be performing at the football game this Friday. Students need to be in the band room at 6pm. They are performing at pregame and halftime. More information will be coming about the event closer to the day. We will also need some assistance getting front ensemble on and off the field. If you are planning on signing up for front ensemble assistance at the next competition, it would be a great way to get some practice. Please meet the front ensemble behind the stadium 5 minutes before the end of the second quarter.
Competition Information
Students will need to be at the band room at 10:30am, and buses will be leaving at 11am. The band trailer and parents who are helping set up should plan to leave McMinnville should plan to leave at least a half an hour earlier. Students are to bring their own lunch. Snacks and water will also be available throughout the day. There will be hot water again for soup and warm drinks as well. Dinner will be provided by the Band Parent Organization for band members and all volunteers. Dinner will be chili and cornbread. The competition will wrap up with the awards ceremony, which is scheduled to start around 9:30pm. Students are welcome to go home with their parents or ride the bus back to MHS. If the student will not be riding home on the bus, Mr. Barton needs to be notified.

Tuesday, October 26th – Marching Practice – 6pm to 8:30pm @ Baker Field
Thursday, October 28th – Marching Practice – 6pm to 8:30pm @ Baker Field
Friday, October 29th – Football game – meet at the
band
room at 6pm
Saturday, October 30th – Tigard Autumn Spectacular – meet at the
band
room at 10:30am
T-shirts, hats, and water bottles are now for sale. You can purchase these items on the website or at Championships.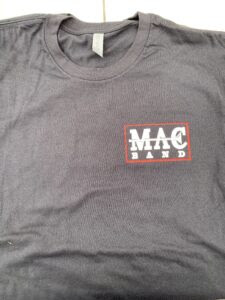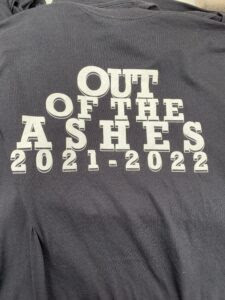 $15 $25 $15
Have questions?
Remember that you can find answers to your Band season questions by visiting the MacBand website. And as always, if you don't find what you're looking for, send us an email.
Here's to a great season,
Owen Andrus
McMinnville Band Parent Organization