Last updated: 8/2/19
This page will continue to be updated as more details become finalized. Be sure to check back often. Also, if there is something you need to know, but don't find it here, please send a message to mbpo40@gmail.com
---
New Notes: Please be sure to print, fill out, & bring the necessary forms with you on Monday. We will have a 'Check In' table near the buses at 7:00 a.m. All students must turn in a completed Field Trip Permission Form before they will be allowed on the bus.
Many students have already completed and turned in the 'Contract' Form. If you haven't, please make sure you bring that along as well.
You can find links to both forms below.
All students will also need to bring a sack lunch on Monday. After Monday's lunch, all meals will be provided.
If you already have a pair of Dinkles, bring them with you to camp. If you don't have them, or have have no idea what they are, you will find out and be fitted at camp.
---
For new members: There have been questions about the cost to participate in Marching Band. For the 2019-2020 school year, the Fair Share amount is $250.00 per student. For new students (or for those who need a new pair) Dinkles cost $35.00. Payments may be made on the MacBand website by clicking on the Fair Share tab. We hope to have all student fees paid in full by the middle of September. For those who may need financial assistance, please fill out the Financial Assistance Request Form and return to to Mr. Barton. There will also be fundraising opportunities available for students to help pay for their fee.
---
Students: Drill Sheets are now on the 'Students' page of the MacBand website. Download them into your phone if desired.
---
This year's Band Camp will be August 5th through 8th (Monday – Thursday) at Nestucca High School.
(The band will also perform for a Parent Show on Friday, August 9th at noon on Baker Field.)
---
FYI: The most common question asked about Band Camp is "What are the sleeping arrangements?" Here is the answer.
Not only will the girls and boys be sleeping in separate rooms, they will be in different buildings.
The girls will be sleeping in the Gym. They will need to bring a pillow and a sleeping bag. Since it is a gym floor, bringing a mat or air mattress is also advised.
The boys will be sleeping in the Field House. They too will need to bring a pillow and a sleeping bag. The field house floor is concrete, but does have wrestling mats. Bringing a mat or air mattress is also advised.
There will be chaperones overnight in each location.
---
What Student Forms are Needed?
These are the forms that all students need to have filled out by the start of Band Camp: Bring printed forms with you Monday at 7:00 a.m.
Fall 2019 Marching Show & Contract
Band Field Trip Permission English -or-
Band Field Trip Permission Spanish
Sign-up Form on the MacBand website
---
Parents and Guardians – Can You Help?
Join the fun and be a part of the first Band Camp away from home. Check the Volunteer Sign-up Sheet and add your name to the list of fantastic people supporting our great kids.
Important Info: If you will be helping with Band Camp OR volunteering / chaperoning with the band at any time during the school year, you must have a Criminal History Verification form on file with the school district. It only takes a couple of minutes to fill out and is valid for three years. Please complete the form below and send it to the district office, attention Cathy Willoughby. You can send it by:
Fax – (503) 565-4030
Email – cwilloughby@msd.k12.or.us
Snail mail or in person – 800 NE Lafayette Ave, McMinnville, OR 97128
MSD Criminal History Verification Form English – or –
MSD Criminal History Verification Form Spanish
---
Where Are We Going?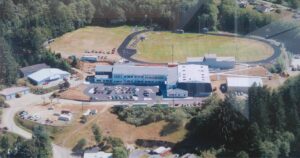 Band Camp will be held at Nestucca High School on the beautiful Oregon Coast. Nestucca High School is located at 34660 Parkway Drive in Cloverdale, Oregon. We are extremely fortunate that the Nestucca School District is allowing us to use their facilities. Thank you Bobcats!
---
What to Bring?
Instrument
Music
Band – White shirt for evening rehearsals
Colorguard – Red shirt for evening rehearsals
Comfortable tennis shoes (no open toe) for marching rehearsals
Dinkles for fitting
Water bottle
Changes of clothes for 3 days (dress for the weather at the Oregon coast)
Sleep attire
Toiletries
Towel
Sun block
Sleeping bag
Sleeping mat or mattress
Pillow
Flashlight if desired
Light Jacket
Beach attire (could be a parka)
---
What's the Schedule?
| | | | | | |
| --- | --- | --- | --- | --- | --- |
| Time | Monday | Tuesday | Wednesday | Thursday | Friday |
| 7:00 AM | Meet at MHS | Breakfast | Breakfast | Breakfast |   |
| 7:30 AM | Leave for NHS |   |   |   |   |
| 8:00 AM |   | Personal Time | Personal Time | Personal Time |   |
| 8:30 AM | Personal Time | Chicken Fat | Chicken Fat | Chicken Fat |   |
| 9:00 AM | Marching Field | Marching Field | Marching Field | Marching Field |   |
| 9:30 AM |   |   |   |   |   |
| 10:00 AM |   |   |   |   | Chicken Fat |
| 10:30 AM |   |   |   |   | Drill |
| 11:00 AM |   |   |   |   | Baker Field |
| 11:30 AM | Lunch | Lunch | Lunch | Lunch |   |
| 12:00 PM |   |   |   |   | Parent Show |
| 12:30 PM | Personal | Personal | Personal | Pack and clean |   |
| 1:00 | Music Indoor | Music Indoor | Music Indoor | Service Project |   |
| 1:30 |   |   |   |   |   |
| 2:00 |   |   |   |   |   |
| 2:30 |   |   |   |   |   |
| 3:00 |   |   |   | Load Buses |   |
| 3:30 |   |   |   | Beach |   |
| 4:00 | PT | PT | PT |   |   |
| 4:30 | Dinner | Dinner | Dinner |   |   |
| 5:00 |   |   |   |   |   |
| 5:30 | PT | PT | PT |   |   |
| 6:00 | Drill Field | Drill Field | Drill Field | Dinner |   |
| 6:30 |   |   |   |   |   |
| 7:00 |   |   |   | Load buses |   |
| 7:30 |   |   |   | Home |   |
| 8:00 |   |   |   |   |   |
| 8:30 | Snack | Snack | Snack |   |   |
| 9:00 | PT | PT | PT |   |   |
| 9:30 |   |   |   |   |   |
| 10:00 |   |   |   |   |   |